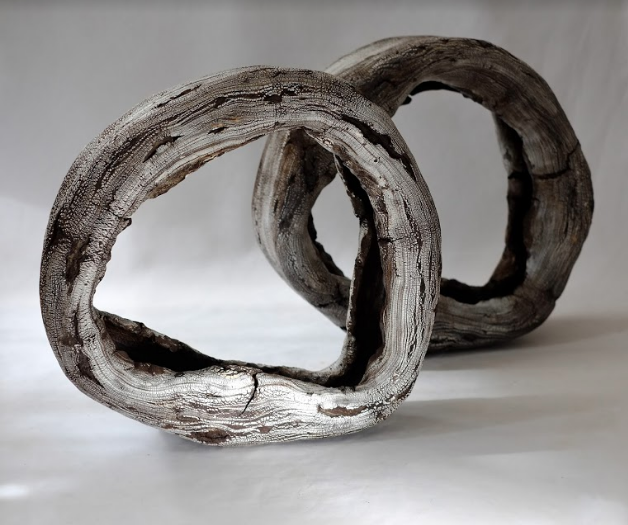 presented by La Patinoire Royale - Galerie Valérie Bach
Yoshimi Futamura, Meditation Circle 2, 2017, 55x55x16cm. Courtesy of the artist and La Patinoire Royale - Galerie Valérie Bach
Born in 1959 in Nagoya, Japan, Futamura invariably draws her inspiration from nature. Her sculptural forms are intended to be reflections of nature and are infused with a vibrant living essence.
Inviting us to contemplate a nature made of bark, scales, bursts and faults, Futamura uses a blend of stoneware clays and a mixture of fired and raw granulated porcelain to create her collapsed rounded forms that appear both vegetal and geological in origin. Her works seems to encompass the strength of the Japanese stoneware tradition with the elegance and refinements of Paris, where Yoshimi Futamura lives and works since 1986.
Throughout several series of work over the past decade, including the series Racines (roots), Rhi- zomes, and Vagues de terre (Earthen Waves), she plays with textures and colors of the earth and fire. To the rounded stoneware forms, Futamura applies a thin white porcelain slip, that eventually cracks when drying on the wet clay as she manipulates the shape from the inside out. These forms are sometimes encrusted with feldspar, and enhanced with cobalt and iron oxide glazes on the interior, making them iridescent.
Starting from the legacy of her ceramic education from Japan, she experiments with clay as a living and powerful material and finds in nature her source of inspiration, creating fissured surfaces that seem on the brink of bursting into expansion. Meditation Circle 2018, representing enlightenment and entirety of universe, encapsulates in one work of art the clashing forces of being fluent and strong at once.
CONTACT
La Patinoire Royale - Galerie Valérie Bach - 15 Rue Veydt - 1060 Bruxelles - T. + 32 2 533 03 90 info@lapatinoireroyale.com - www.prvbgallery.com